Children's Museum to feature discounted admission and live reindeer during downtown Miracle on 7th Street event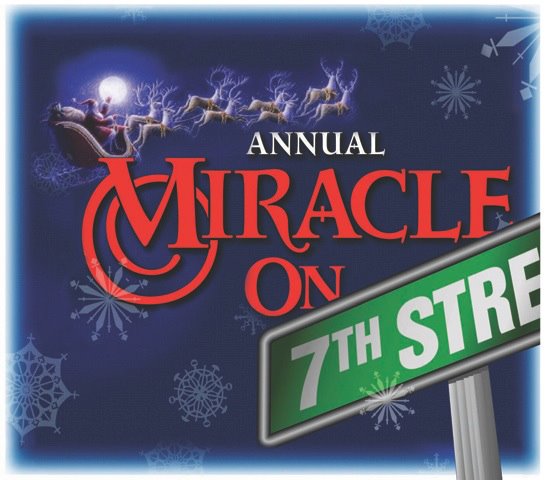 On Friday, Dec. 6, downtown Terre Haute will celebrate the holidays with the 5th Annual Miracle on 7th Street event, and the Terre Haute Children's Museum will join in the festivities with discounted admission, an appearance by a live reindeer, holiday-themed stories and activities, music provided by the ISU Holiday Choir and an opportunity to write a letter to Santa.
From 5 to 8 p.m., there will be a wide variety of activities throughout the Museum. There will be insta-snow demonstrations, snacks and storytelling, and students from the INTERLINK Language Center at Indiana State University will be on hand to share information about their different cultures. In addition, the ISU Holiday Choir will be greeting guests with song as they perform outside of the Children's Museum at 7 p.m.
From 6:30 to 8:30 p.m., join Silly Safaris for "The Indiana Reindeer Reserve!" One of Santa's elves will be on hand to share all the secrets of life in the workshop and at the reindeer barn. Guests will get to meet the reindeer and take photos, but Santa's elf and his reindeer friend are very busy this time of year, so they must be on their way by 8:30 p.m. Bring your camera, and make plans to get to the Museum early so that you don't miss out on the fun! The Reindeer Reserve presentation is sponsored by the Terre Haute Rotary Club and Silly Safaris.
While you're at the Museum, be sure to also stop by the Old National Bank Science Store! Purchase a membership to the Museum for your family or a family that you love, sponsor a brick at the Museum for that "hard to buy for" person who has it all, pick up a Museum gift certificate so that your loved ones can use it towards a summer camp program or birthday party at the Museum, or choose from the wide variety of unique educational toys and gifts that the Museum carries. All Science Kits in the store will be 20 percent off that day, and varieties of kits include Physics Discovery, Remote-Controlled Machines, Human Anatomy, and Crystal Mining! Plus, the Science Store is managed by the Museum, so all proceeds go directly to benefit and programs and exhibits that we offer!
On Friday, Dec. 6, the Terre Haute Children's Museum will be open from 10 a.m. to 10 p.m., and admission will be a discounted rate of $5 per person for adults and children over 24 months. Children younger than 24 months and members of the Terre Haute Children's Museum will be admitted for free. All activities are free with Museum admission. Letters to Santa will be written in the Museum's atrium area. There is no charge to write a letter to Santa. For more information about the Museum's Miracle on 7th Street activities, call 812-235-5548.
The Miracle on 7th Street event will take place in downtown Terre Haute from 5 to 10 p.m. Festivities include a variety of activities for the whole family, including an open air marketplace, gallery openings, an appearance by Santa and Mrs. Claus, holiday music, a "Miracle Trees" decorating contest, and a food and funds drive to help feed local families in need. For more information, visit the Miracle on 7th Street Facebook page at https://www.facebook.com/MiracleOn7thStreetTerreHaute.
The Terre Haute Children's Museum is a nonprofit institution dedicated to enriching our children's lives through the exploration of science and technology. The Museum, 727 Wabash Ave., is located at the corner of 8th Street and Wabash Avenue in downtown Terre Haute. For more information, visitwww.thchildrensmuseum.com, email info@terrehautechildrensmuseum.com, or call 812-235-5548. You can also like us on Facebook at facebook.com/terrehautechildrensmuseum, follow us on Twitter attwitter.com/thcmuseum, and check out our Pinterest page at pinterest.com/thcm.